This site is dedicated to the memory of a great Baptist preacher and Bible expositor
"Whom we preach warning every man, and teaching every man in all wisdom; that we may present every man perfect in Christ Jesus." Colossians 1:28
THEODORE MARK BAMBER
BORN 6TH SEPTEMBER 1891
TRANSLATED TO GLORY 14TH MARCH 1970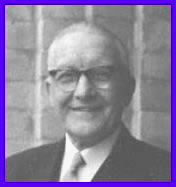 Trained at Spurgeon's College, London.
Pastorates: Centenary Baptist Church March 1917-1921
Free Church (Baptist) Frinton-on-Sea 1921-1926
Rye Lane Baptist Chapel, London 1926-1961
Pastor Emeritus 1961-1970
Among other appointments were the following:
Chairman of:
The Regions Beyond Missionary Union (now known as World Team)
The Peruvian Inland Mission
Co-founder of the Baptist Revival Fellowship formed in 1938
(now known as Reformation and Revival Fellowship :
Vice Chairman of:
The Advent Testimony and Preparation Movement
( now known as the Prophetic Witness Movement International)

President of:
The London Baptist Association
The Southern Group (L.B.A.)
Council Member of:
The Baptist Union -------Spurgeon's College
Examiner of Candidates for the London City Mission
Keswick Convention speaker.